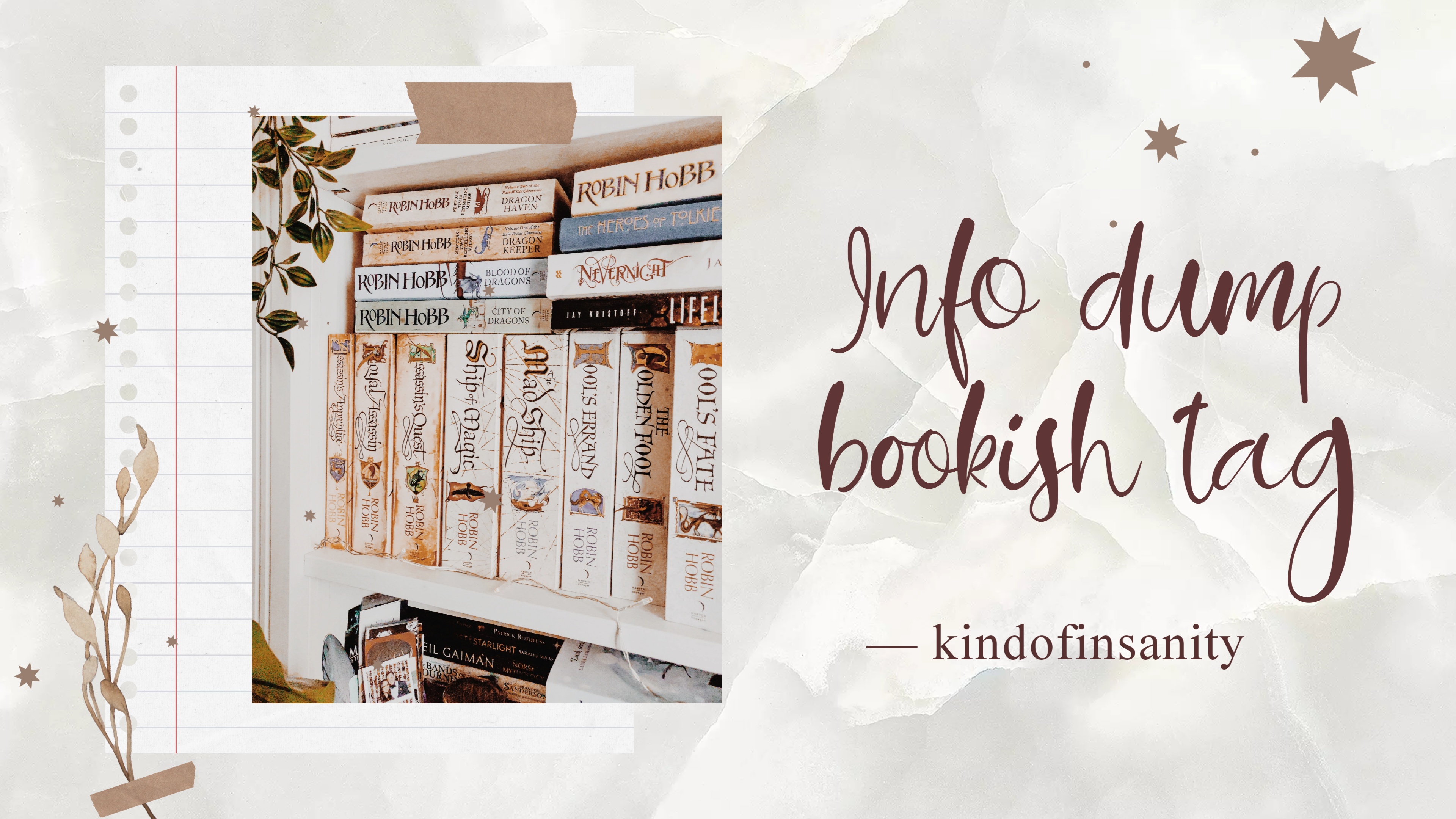 Hey everyone! I'm back today with a really cool bookish tag called, Info Dump, and created by Books And Chocaholic. The lovely Rachel taggued me, and I cannot wait to finally do this tag about my individual reading habits!


1. How many books on average do you read per month?

I would say 6 books, but it can definitely vary. Sometimes I can read 9 books when I have time, and some other months, I read only 4.

2. How many books are on your TBR?

Ooh the aggressive question! Honestly, I have no idea. I know I have like 40 unread book on my e-reader and I would say around 50 physical books. And that's only the books I own. I have so many more books on my TBR, I don't know how I will read them all! So yeah. As Jay Kristoff has written in Nevernight: "Too many books. Too few centuries."

3. How are your books organised on your shelves?

It used to be organized by author and genre when I had still enough room left for my books which is no longer the case. 😂 So now it's just a big mess of books on my shelves but that's okay. I will have more shelves one day!

4. Which genres do you read most from?

Definitely fantasy! It has always been the case, and it will never change.

5. Which genres do you own most of?

Also fantasy, without a doubt!

6. Which is your preferred form of reading (physical, audio, ebook...)?

Oh tricky question! I'd want to answer physical books here, but to be quite honest, that would be a huge lie. I have been owning an e-reader for 7 years now, and honestly it's the best DEVICE EVER. It's soo handy and comfy, with its front light for night readers, it's really light for your travels, and you can have all the books you want in a single device. So yeah, it's my favorite from of reading. But don't get me wrong, I also read physical and audio books. But for instance, when I have a +500 pages book to read, I would clearly choose my e-reader rather than a physical book to read it.

7. Who is your most owned author?

Easy question for me, it's Robin Hobb. She's been my favorite author for quite some time now, with her well known series, The Realm of the Elderlings. It's a 16 books series, and I own multiple editions of each books, so I have more than 30 books from this author. If you haven't checked this series out by the way, I would highly recommend it if you love epic fantasy stories with character driven plot, court politics and just an incredible world-building.

8. Describe your favourite writing style?

I would say character driven plot with beautiful writing. While I can enjoy plot driven stories, my favorite books are always about well developped characters. I need to connect to the characters to feel all the emotions in a book and that's something I often find lacking in YA novels. My favorite writing style is Robin Hobb's writing basically. 😂

9. Which literary devices do you like/dislike?

I love metaphor, I'm all about flowery writing, so metaphors are basically mandatory for me! I dislike foreshadowing in YA books. When it's poorly done, the ending becomes too predictable and it's something that annoys me regularly in books.

10. Which character archetypes do you enjoy?

Ohh, I'm all about big and complex characters development! I also love morally grey characters who can't stop themselves taking bad decisions such as Fitz Chivalry from The Realm of the Elderlings series, or Rin from The Poppy War trilogy. I just love complex characters, I need depth and background!

11. Which are your favourite book settings?

SCHOOL SETTING. Whether it be assassins school or military school, or magic school. Also medieval setting, with court politics. Lots of court politics!

12. Which are your favourite romantic and plot tropes?

Hmm, enemies to lovers definitely, also friendship to lovers and FAKE DATING. This one is so fun in romance novels! As for the plot tropes, I like the chosen one trope, and the secret bastard/heir to the throne too!


---


This book tag was really fun to do, thank you again Rachel for tagging me! I hope you enjoyed this tag. Do you agree with some of these answers?