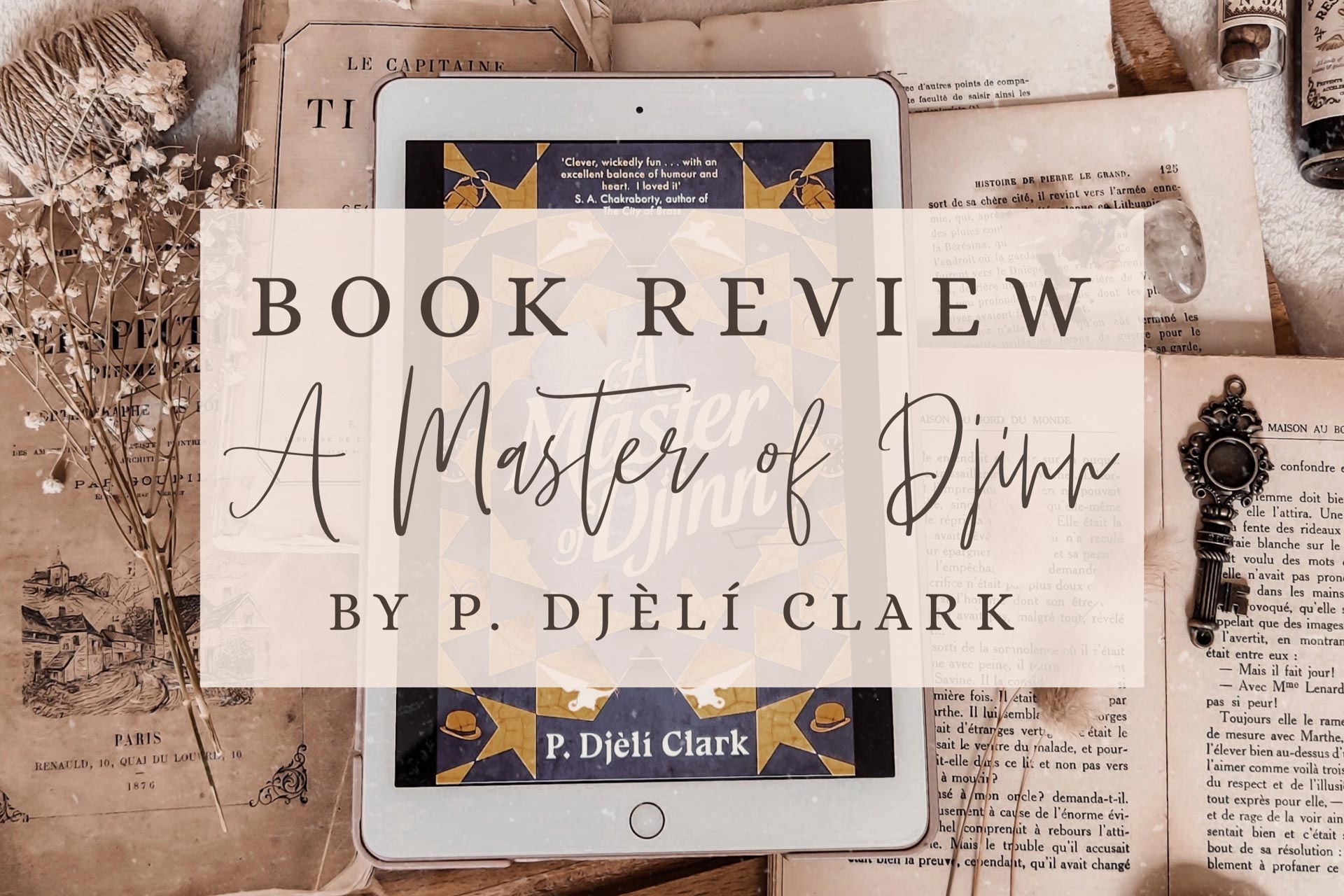 Author
: P. Djèlí Clark
Publisher
: Orbit
Genre
: Adult Fantasy
Release date
: August 19th, 2021
Pages
: 416
Goodreads page
:
here
TW
: murder, violence
My rating
: 4.25/5 ⭐
---
Synopsis
Nebula, Locus, and Alex Award-winner P. Djèlí Clark returns to his popular alternate Cairo universe for his fantasy novel debut, A Master of Djinn

Cairo, 1912: Though Fatma el-Sha'arawi is the youngest woman working for the Ministry of Alchemy, Enchantments and Supernatural Entities, she's certainly not a rookie, especially after preventing the destruction of the universe last summer.

So when someone murders a secret brotherhood dedicated to one of the most famous men in history, al-Jahiz, Agent Fatma is called onto the case. Al-Jahiz transformed the world 50 years ago when he opened up the veil between the magical and mundane realms, before vanishing into the unknown. This murderer claims to be al-Jahiz, returned to condemn the modern age for its social oppressions. His dangerous magical abilities instigate unrest in the streets of Cairo that threaten to spill over onto the global stage.

Alongside her Ministry colleagues and her clever girlfriend Siti, Agent Fatma must unravel the mystery behind this imposter to restore peace to the city - or face the possibility he could be exactly who he seems....
---
My thoughts

I had seen amazing reviews about this book for months, and I'm glad to tell you that it didn't disappoint at all!

A Master of Djinn is a murder mystery fantasy novel with steampunk vibes, set in an alternative 1910's Cairo. We follow Agent Fatma el-Sha'arawi, a badass woman known for her cleverness, harsh personality and her success in solving the most difficult cases, who also happens to be the youngest woman agent of the Ministry of Alchemy, Enchantments and Supernatural Entities. She is suddenly put on a mysterious case when the murder of a secret brotherhood, dedicated to the most famous men in history, al-Jahiz, happens. al-Jahiz, who transformed the world 50 years ago when he opened up the veil between the magical and mundane realms, vanished into the unknown years ago, and became quite a legend in the world. Humans and magical entities such as Djinns, Ifrits, Marids, Ghouls and so many more, have now been living side by side for decades and the Ministry of Alchemy, Enchantments and Supernatural Entities is dedicated to help the police in solving cases when the Supernatural realm is involved.


"And nobody's judgment we scared of more than the one we give our hearts to."
First, I would like to mention that the author wrote 3 novellas set in the same world and in the same series, The Dead Djinn Universe series. You don't have to read these novellas to enjoy and understand A Master of Djinn, but I think it is interesting to read the novellas first to get a glimpse and get more used to the world. I only read A Dead Djinn in Cairo novella before reading A Master of Djinn, because I couldn't wait, and I was glad I did, because some elements of the book referred to the novella, which has also Agent Fatma as the main character and Siti, a mysterious and clever woman.

My favorite aspect of this book was definitely the world-building. It was so complex and well developed, full of descriptive writing, historical facts and magic that I was immediately swept away in this amazing world. Full of Djinns, Ghouls, sometimes Marid and Ifrit and also humans, this world was so fascinating to learn about, and I could honestly read dozens of books set in this world. I absolutely loved this mix between the true historical events of Egypt in our real world, with all the colonialism context, and the historical fantasy elements created by the author. It was so well done, that I honestly think A Master of Djinn might have one of my favorite world-building that I ever read about.

The steampunk elements in this book were also an amazing advantage and added so much originality to the book! This is clearly something that I don't see often in fantasy books, and I really enjoyed this aspect.


"You! You can't just walk in here! This is a crime scene!" "That would explain the dead bodies, then," she replied. He blinked dumbly, and she sighed. Wasting good sarcasm was annoying."
The main character Fatma, was absolutely amazing, and I loved her the minute I started the novella A Dead Djinn in Cairo. She was one of the few female Agents in the Ministry, and in a world where women didn't have the same rights as the men, she shone with her hash personality, sarcasm and impeccable outfits, English suits. Speaking of English suits, the reason why Fatma was wearing this everyday made me fall in love with the series:


"When I was in school in Luxor I would see these photographs of Englishmen and Frenchmen who visited Egypt, before the djinn came. Mostly they were in suits. But sometimes they'd put on a jellabiya and headscarf. I found out they called it 'going native'. To look exotic, they said."
"Did they?" Aasim cut in.
"Did they what?"
"Look exotic."
"No. Just ridiculous"
Aasim snickered.
"Anyway, when I bought my first suit, the English tailor asked me why I wanted it. I told him I wanted to look exotic."

- A Dead Djinn in Cairo
I really loved the other characters, Hadia, a new woman Agent and colleague to Fatma, and Siti, Fatma's girlfriend. They were both absolutely amazing, and I really enjoyed seeing both relationships with Fatma grow through the book. It was really well developed and made me enjoy the story so much more. I also loved the sapphic rep in this book.

The plot was not really complex and was a bit predictable at times, I suspected who was the Impostor before the ending, but it was intriguing and I couldn't stop reading it. The pace was perfect all along, I didn't get bored one minute, and it was just so much fun to read.

Overall, it was such a pleasure to read this book! I would highly recommend it, and I cannot wait to read more books set in the same world.



Thank you to the publisher and Netgalley for providing me an e-ARC of this book.