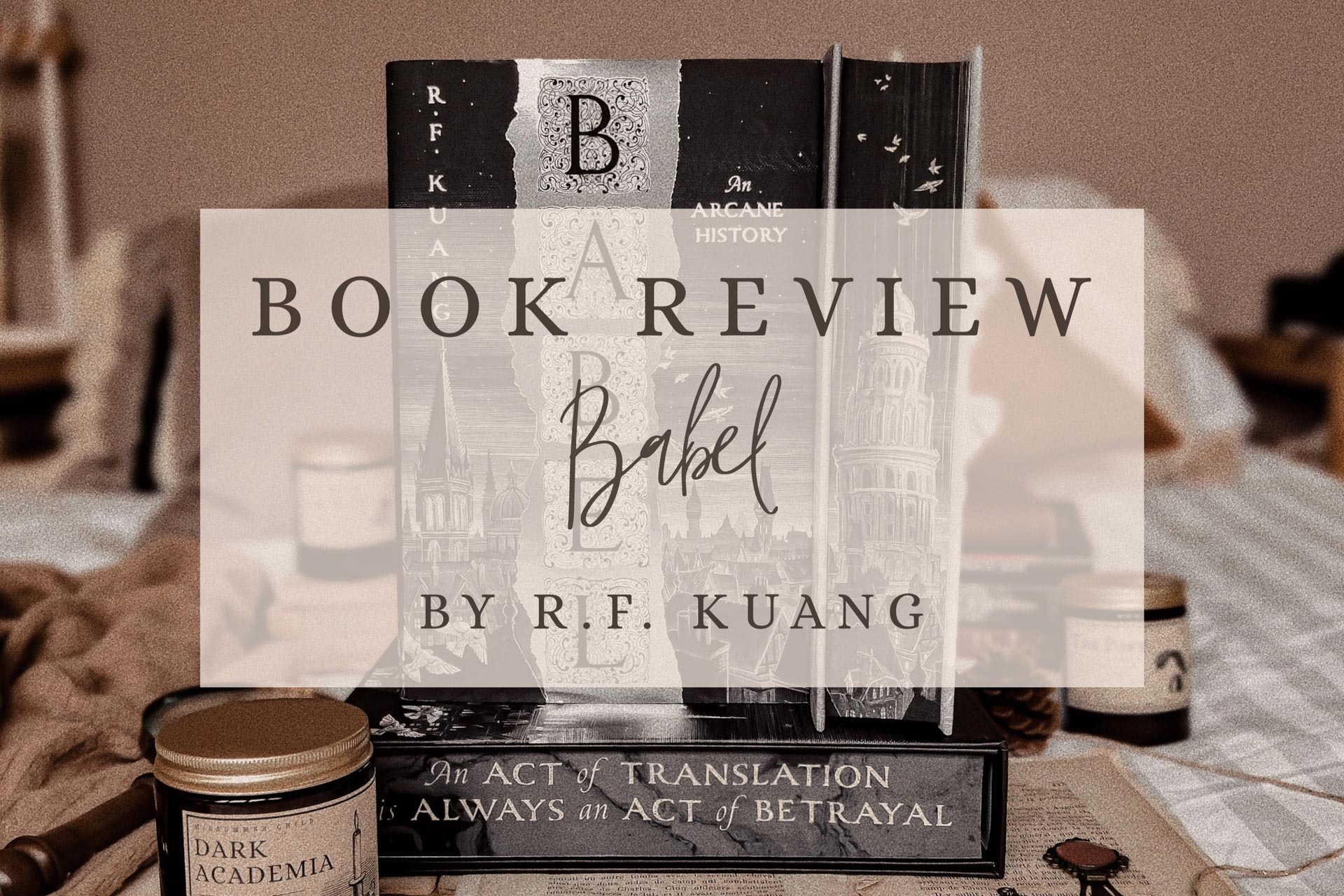 Author
: R.F. Kuang
Publisher
: Harper Voyager
Genre
: Historical Fiction, Fantasy
Release date
: August 23rd, 2022
Pages
: 542
Goodreads page
:
here
TW
: racism, violence, death, sexism
My rating
: 5/5 ⭐
---
Synopsis
A new dark academic fantasy by the New York Times bestselling author of The Poppy War.

Traduttore, traditore: An act of translation is always an act of betrayal.

Oxford, 1836.

The city of dreaming spires.

It is the centre of all knowledge and progress in the world.

And at its centre is Babel, the Royal Institute of Translation. The tower from which all the power of the Empire flows.

Orphaned in Canton and brought to England by a mysterious guardian, Babel seemed like paradise to Robin Swift.

Until it became a prison…

But can a student stand against an empire?

An incendiary new novel from award-winning author R.F. Kuang about the power of language, the violence of colonialism, and the sacrifices of resistance.
---
My thoughts
"This is how colonialism works. It convinces us that the fallout from resistance is entirely our fault, that the immoral choice is resistance itself rather than the circumstances that demanded it."
Holy shit, this was a masterpiece.

Babel was everything I wanted in the dark academia genre. I knew R.F. Kuang would not shy away in denouncing everything that was wrong in this genre, in our colonial history and how hypocrite it all was. It was denounced in such a well balanced way, with lots of racism and misogynistic scenes that were hard to read and that were leaving me heartbroken for the beautiful, well crafted and still morally grey, main characters of Babel.


"English did not just borrow words from other languages; it was stuffed to the brim with foreign influences, a Frankenstein vernacular. And Robin found it incredible, how this country, whose citizens prided themselves so much on being better than the rest of the world, could not make it through an afternoon tea without borrowed goods."
The found-family aspect in this book was so well developed, with 3 POC characters and 1 white character who found their way into each other, who grew together in the hardship of translation studies, and ultimately could not understand each other completely because of their roots and their experiences. I laughed with them, I cried with them, I was so angry for what happened to them. They made me feel so many emotions, it was absolutely a blessing to read about these characters.

The historical aspect of this book was also brilliant, and it showed how much research the author put into this book. I loved learning historical facts, there were so many and the footnotes added a lot of context and explanations that were really helpful to the story. This book was actually more of an accurate historical fiction than a fantasy book, with a low magic system, and it was so well incorporated, in a logical and smart way, that it almost could have been the real world.


"Betrayal. Translation means doing violence upon the original, it means warping and distorting it for foreign, unintended eyes. So, where does that leave us? How can we conclude except by acknowledging that an act of translation is always an act of betrayal?"
Also the academic part was fantastic, and honestly made me want to study for a short time again because I was obsessed with all the language and translation discussions, and I loved learning about it. And even though the historical and academic part were really strong in this book, the writing made it all so easy to read and digest.

Finally, Robin completely stole my heart, and I couldn't be more grateful to have read a book where the main character was mixed-race, from Asia and Europe, like I am. I could not relate to everything, but his struggles in finding his true identity as a mixed raced character in an Occidental country that would not accept him as their own was everything to me.


"They were men at Oxford; they were not Oxford men. But the enormity of this knowledge was so devastating, such a vicious antithesis to the three golden days they'd blindly enjoyed, that neither of them could say it out loud."
I could honestly go on and on about this book because I pretty much highlighted every page of it. Everything was so important, everything in this book made sense and hurt so much because it was so close to the reality of our world and our violent history. So overall, I absolutely do not regret buying 4 different editions of this book (3 physical copies + the ebook). 5/5 stars, a unique, beautiful and a new favorite book, such an important read, fantastic writing as always and R.F. Kuang is a genius.