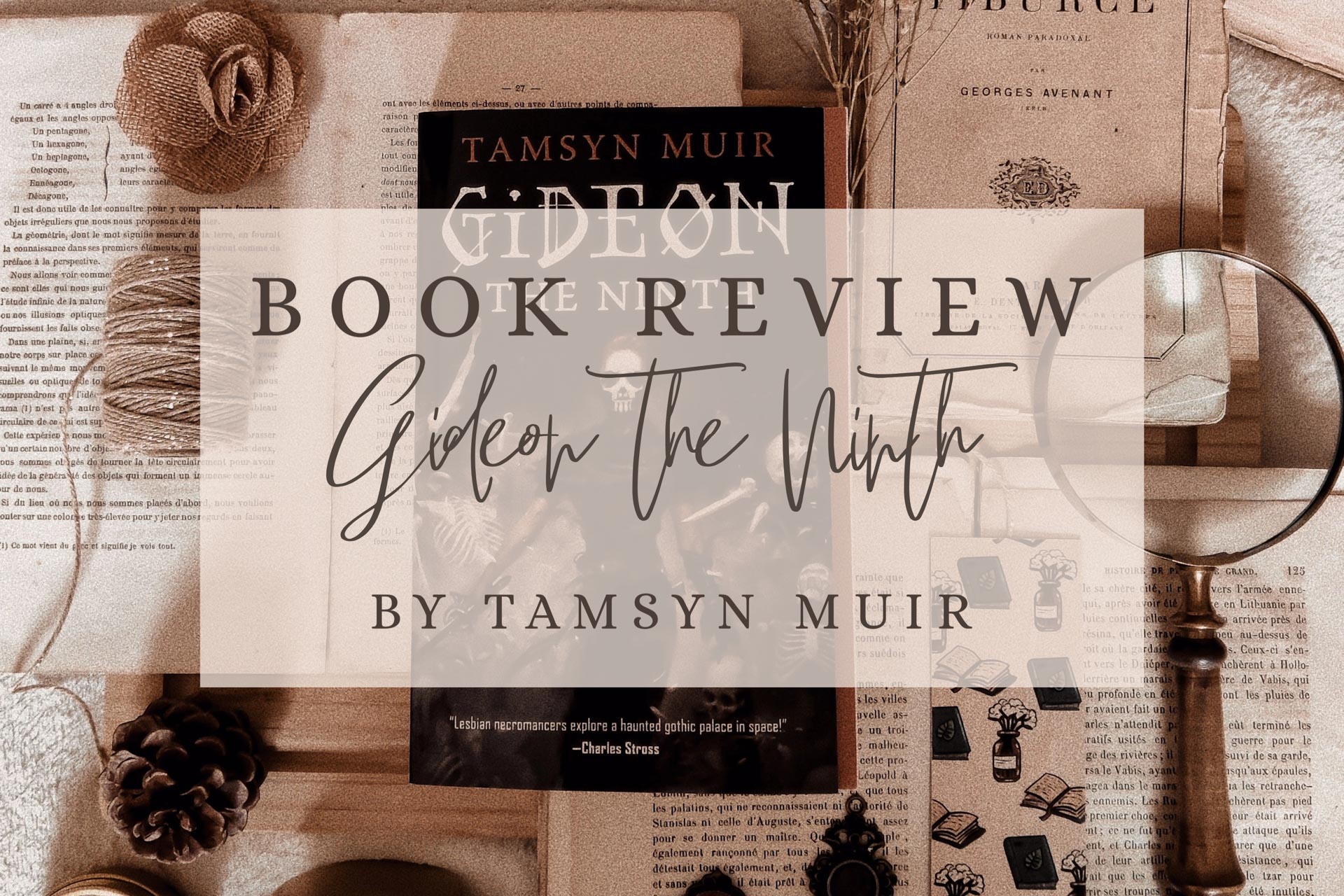 Author
: Tamsyn Muir
Publisher
: Tor
Genre
: Adult Science Fiction/Fantasy
Release date
: September 10th, 2019
Pages
: 448
Goodreads page
:
here
TW
: murder, body horror, death, gore, injury, mutilation, necromancy, self-harm, suicide, trauma, violence
My rating
: 5/5 ⭐
---
Synopsis
The Emperor needs necromancers.

The Ninth Necromancer needs a swordswoman.

Gideon has a sword, some dirty magazines, and no more time for undead bullshit.

Brought up by unfriendly, ossifying nuns, ancient retainers, and countless skeletons, Gideon is ready to abandon a life of servitude and an afterlife as a reanimated corpse. She packs up her sword, her shoes, and her dirty magazines, and prepares to launch her daring escape. But her childhood nemesis won't set her free without a service.

Harrowhark Nonagesimus, Reverend Daughter of the Ninth House and bone witch extraordinaire, has been summoned into action. The Emperor has invited the heirs to each of his loyal Houses to a deadly trial of wits and skill. If Harrowhark succeeds she will become an immortal, all-powerful servant of the Resurrection, but no necromancer can ascend without their cavalier. Without Gideon's sword, Harrow will fail, and the Ninth House will die.

Of course, some things are better left dead.
---
My thoughts

Gideon the Ninth is a science fiction novel that follows Gideon Nav, a young woman who is forced to leave her home and become swordswoman for the Reverend Daughter of the Ninth House and lesbian necromancer, Harrowhark Nonagesimus. As they travel to the Emperor's House to compete in a deadly trial of wits and skill to become the Emperor's next Lyctor (a type of undead being), they uncover secrets and betrayal within the other houses, and have to face a row of mysterious murders.

One of my favorite aspects of this book was the writing that immediatly stood out to me. The book was told from a first-person perspective, with Gideon Nav as the narrator, and was filled with dark humor and sarcasm. And that is what made me completely fall in love with this character, who was honestly the funniest sarcastic lesbian I had ever read about. The writing was also filled with beautiful and detailed descriptions of the environment, that also added a lovely dark atmosphere to this mysterious and complex world.


"But Gideon was experiencing one powerful emotion: being sick of everyone's shit."
As a reader, we were, for the most part of the book, completely left in the dark, as Gideon was trying herself to untangle the several arcs of the story while also developing a complex and nuanced relationship with her dark nemesis, Harrowhark Nonagesimus (also known as Nona), who saw Gideon as nothing more than a tool to be used for her own benefit. The plot was honestly a complete mystery, and that is what made this book so unique in my opinion, because I couldn't understand a thing about the plot and the world-building, but I was still completely engrossed by what I was reading. It was 100% addictive and I didn't get bored one single time, which was surprising because I usually hate not knowing what is happening. The book had a slow pace, but the dark atmosphere with a growing tension through the book made it really intriguing until the explosive ending, which was filled with plot twists and epic fights.

The book was more focused on the characters, the relationships between the different Houses and the dark atmosphere that I absolutely loved. The murder mytery added lots of tension and danger to the story and honestly some of the scenes were so horrifying that it creeped me out and left me on the edge of my seat. It is hard to explain why by the end of the book I was completely obsessed with the characters, and especially the two main characters, Gideon and Nona, and totally immersed in this fascinating world but honestly this book really worked for me. We didn't learn much about the world-building in the first book, but I can't wait to learn more and be left in the dark for like an eternity.


"One flesh, one end, bitch."
Overall, this book was so much fun and clever. It was dark, funny, creepy, emotional, honestly I felt all the emotions, and some scenes literally made me gasp in horror or in shock. It was amazing. It was simply amazing, and I cannot wait to read the rest of the series.