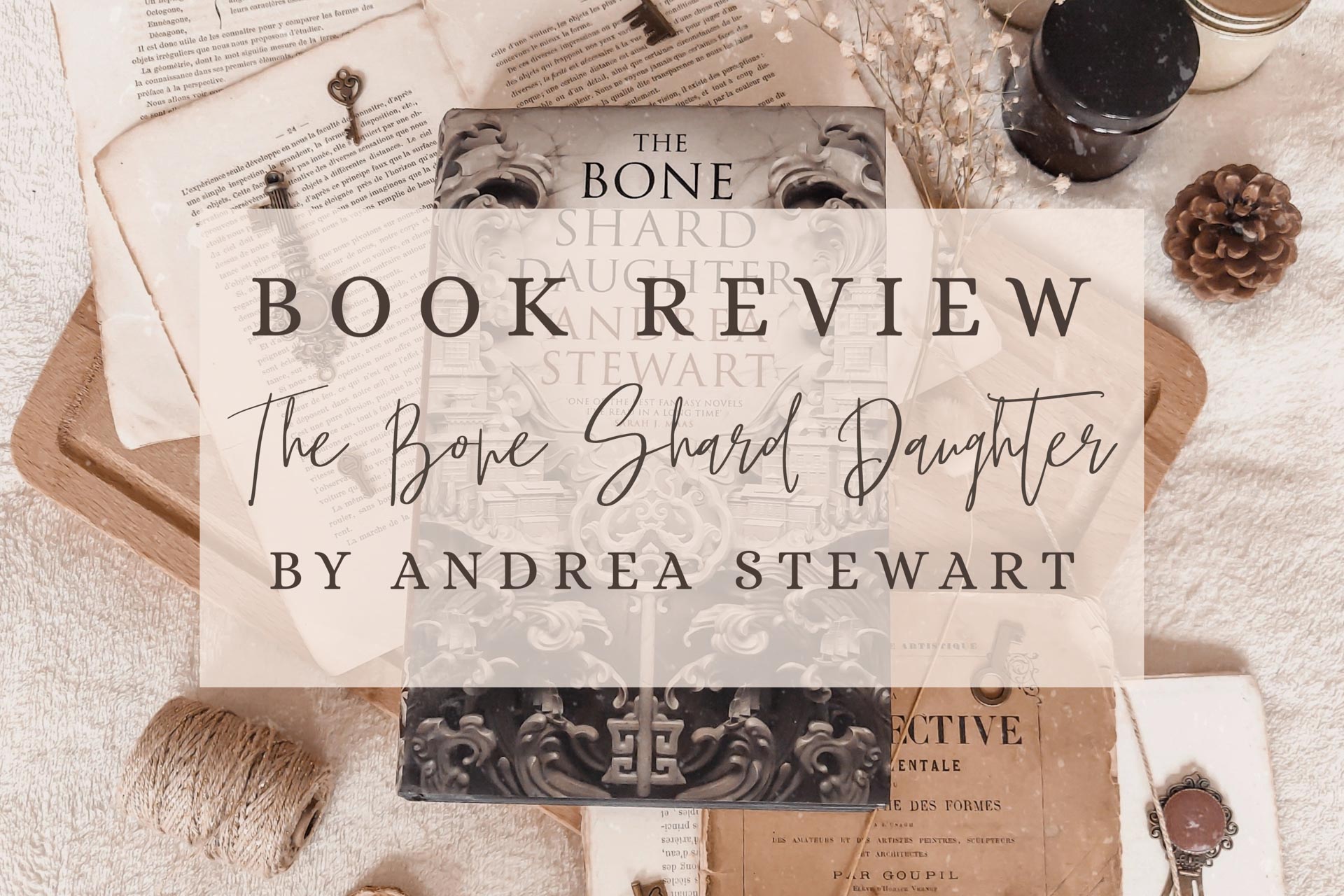 Author
: Andrea Stewart
Publisher
: Orbit
Genre
: Adult Fantasy
Release date
: September 8th, 2020
Pages
: 448
Goodreads page
:
here
TW
: Blood, child death, death of loved one, drowning, experimentation (human/animal), murder, parental abuse, violence
My rating
: 4.5/5 ⭐
---
Synopsis
In an empire controlled by bone shard magic, Lin, the former heir to the emperor will fight to reclaim her magic and her place on the throne. The Bone Shard Daughter marks the debut of a major new voice in epic fantasy.

The emperor's reign has lasted for decades, his mastery of bone shard magic powering the animal-like constructs that maintain law and order. But now his rule is failing, and revolution is sweeping across the Empire's many islands.

Lin is the emperor's daughter and spends her days trapped in a palace of locked doors and dark secrets. When her father refuses to recognise her as heir to the throne, she vows to prove her worth by mastering the forbidden art of bone shard magic.

Yet such power carries a great cost, and when the revolution reaches the gates of the palace, Lin must decide how far she is willing to go to claim her birthright - and save her people.
---
My thoughts

This book was one of my most anticipated releases of the year and I can honestly say that this book was one of the best debuts I had ever read! Bone shard magic and the beginning of a revolution? Call me definitely intrigued! Also, can we talk for a second about this gorgeous cover? It definitely picked my interest and I'm so glad adult fantasy book are starting to have more and more sophisticated and beautiful covers because, while it doesn't do everything for the book, it definitely helps to catch the eye of a reader.

From chapter one, I knew this book would be great. The writing was good, it was flowing nicely and was so pleasant to read. The world-building was immediately intriguing without being too heavy, and with just one chapter, I was completely hooked to the story. The magic system was fascinating and so well imagined, with some sorts of monsters called constructs, ruling all over the Empire and created by the Emperor with bone shards to protect the Empire. The story behind these bone shards was so much darker than I thought and it added complexity to the story.



How far are you willing to go to protect your Empire?


In this story, we were following multiple POVs, 5 to be specific, and honestly it had been such a long time since I had not read a book with that many points of view! It can definitely be overwhelming, but I found that in this case, it was really well done. Each perspective had an intriguing story, with some of them that weren't connected at all for the most part of the book. The choice of writing for these five perspectives was also surprising because we had 2 first-person narratives with Lin and Jovis, while the rest was written in 3rd person. I think I had never seen that in a book before, but it was a great idea to separate the main characters to the secondary ones.


"Knowledge can only be wielded by those who dive into its depths and know the shape of it.
Reading without true understanding is only wading in the shallows without a care for the monsters that lurk beneath."
First, we had Lin's POV, the Emperor's daughter and heir to the throne who, after a sudden memory loss, was trying to be back in her father's good graces, by learning as much as possible about the royal exclusive bone shard magic. Her chapters were intriguing, with very little clues to understand everything but where learning about this complex magic system was fascinating. Lin's narrative was very slow and more informative about the magic system than the story. It moved a lot quicker towards the end though, with a plot twist that I wasn't anticipating.

Then, we had Jovis POV, a smuggler looking for his missing wife, and who found himself a surprising animal companion named Mephis. Jovis chapters were definitely my favorites and I just love when there's a growing bond between a character and an animal. I really enjoyed their friendship evolution, it was just so pure and sweet. Which kind of creature Mephis was wasn't specified but I think we will learn more in the rest of the series. Jovis chapters were definitely the more dynamics one, full of action, journey on different islands and discovery.


"Listening is an art. It's not so much sometimes in letting the other person speak as in asking them the right questions."
Phalue and Ranami's chapters were less present in the book, but were as much intriguing as the rest of the perspectives. I was so pleasantly surprised to find a sapphic romance in here! Their relationship was so well done, with in one hand Phalue, the governor's daughter raised in wealth in a palace, and in the other hand Ranami, an orphan woman raised in the street and who had to survive her whole life. Their issues with each other's felt so real and complex, and it was really interesting to have both perspectives on social inequality and discrimination and the fact that poor people don't have the same opportunities to raise themselves in the society like privileged people.


"It's hard to remake one's view of the world, to admit to complacency.
I thought remaking myself for you was hard enough, but doing that was something I wanted.
I didn't want to realize how much I've hurt the people around me, and that's what confronting my beliefs meant.
We all tell ourselves stories of who we are, and in my mind, I was always the hero. But I wasn't. Not in all the ways I should have been."
And finally, there were Sand, a mysterious woman with no memory of her past, on a mysterious island. Her chapters were the shorter ones, but also the most intriguing ones, as we had no clues at all at what was going on.

This book was a first-in-a-series foundation book, but the plot, while pretty slow-paced, was definitely intriguing with some very well-done plot twists! I wished this book was longer with a bit more world-building, but I also understood that the author could not reveal everything in the first book. I am however definitely excited about the rest of the series and I cannot wait to learn more about this fascinating world!

With complex politics, a revolution and a fascinating magic system, this book was really good, and I would 100% recommend it!

It will be released on September 8th, and you guys don't want to miss this one out!



Thank you to the publisher Orbit and Netgalley for providing me an ARC of this book.
The quotes in this review were taken from an ARC and may not be present in the finished copy.