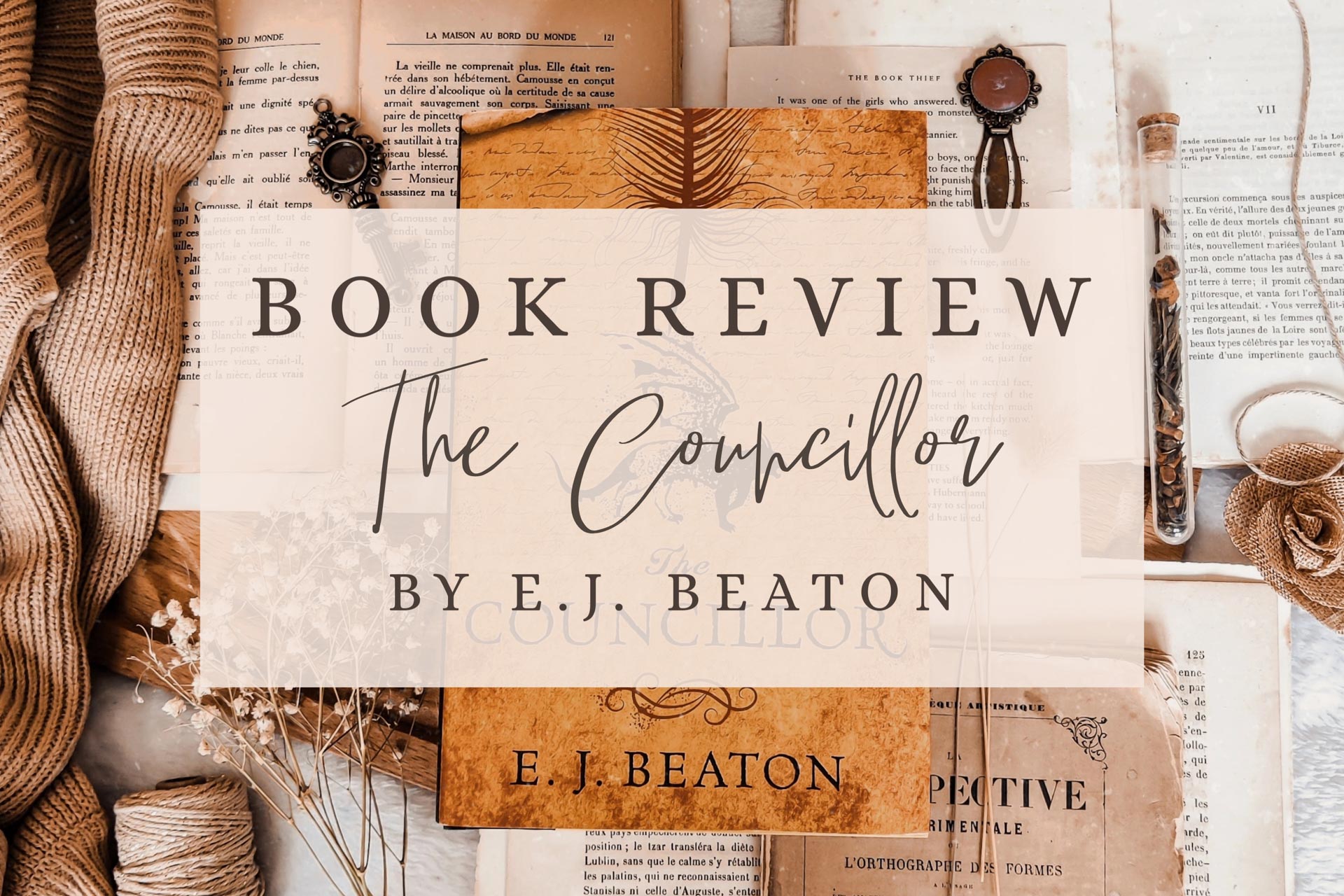 Author
: E.J. Beaton
Publisher
: DAW
Genre
: Adult Fantasy
Release date
: March 2nd, 2021
Pages
: 442
Goodreads page
:
here
TW
: drug addiction, death of loved ones, murder
My rating
: 5/5 ⭐
---
Synopsis
This Machiavellian fantasy follows a scholar's quest to choose the next ruler of her kingdom amidst lies, conspiracy, and assassination.

When the death of Iron Queen Sarelin Brey fractures the realm of Elira, Lysande Prior, the palace scholar and the queen's closest friend, is appointed Councillor. Publically, Lysande must choose the next monarch from amongst the city-rulers vying for the throne. Privately, she seeks to discover which ruler murdered the queen, suspecting the use of magic.

Resourceful, analytical, and quiet, Lysande appears to embody the motto she was raised with: everything in its place. Yet while she hides her drug addiction from her new associates, she cannot hide her growing interest in power. She becomes locked in a game of strategy with the city-rulers – especially the erudite prince Luca Fontaine, who seems to shift between ally and rival.

Further from home, an old enemy is stirring: the magic-wielding White Queen is on the move again, and her alliance with a traitor among the royal milieu poses a danger not just to the peace of the realm, but to the survival of everything that Lysande cares about.

In a world where the low-born keep their heads down, Lysande must learn to fight an enemy who wears many guises… even as she wages her own battle between ambition and restraint.
---
My thoughts

The Councillor was a fantastic and clever Machiavellian fantasy story that astonished me from page one.


"But for all that we talk of duty and higher purpose, I think that it is in doing that we find meaning."
One of the first things that surprised me when I started this book was the writing. The writing was exceptionally beautiful. It was poetic, it was descriptive, it was dense, but it was so beautiful. It wasn't particularly easy to read, the chapters were very (VERY) long, the pages were dense and I thought it was taking me forever to read a page, but in the end, it was just so beautiful. This dense and slow aspect could be seen as a criticism though, the only criticism I could say about this book to be quite honest, because the rest was pure perfection, but the pacing was really slow and full of information. It didn't bother me to take my time with this book however and to read it slowly, but I know this kind of pacing will not be for everyone. Also, as a non-native English speaker, I will be honest, this book challenged me. I came across entirely new words that I had never seen before. But I didn't mind the fact that I was reading really slowly, because each word was important and interesting, I was completely captivated and I loved every word of this book.


"It comforted her to smell the leather and to feel the presence of so many books around her. She could never be alone in a realm of shelves, where characters from ancient stories might speak to her in smooth metaphors and pleasantly gnarled phrases; places she had never seen might spring into life, painted in full range of hues that her imagination supplied, offering a pale green forest, a mountain daubed with gray limestone, or an ocean splintered by the dying sun."
The character's work was excellent. This book had one POV, with Lysande Prior as the main character. Lysande was a scholar, the closest friend of Queen Sarelin Brey and also an orphan who was taken under the Queen's wing when she was younger. She was a scholar who suddenly got pushed into the light when she was made Councillor by her friend and her former queen, with the important task of choosing the next ruler of the realm, and privately find the queen's murderer. The character's work reminded me a bit of Robin Hobb, because Lysande wasn't perfect at all. She had qualities, a lot of them, but she was also flawed, ruined by a drug addiction, always trying to do the right thing, but also distracted and driven by her growing interest of power. Her thoughts were captivating, she had an amazing and clever mind, of course since she was a scholar, but it was so interesting to see her do parallels between everything going on around her and the political/strategic books that she read and kept with her all her life. Lysande was an incredible main character, and she quickly became one of my all-time favorite characters. Her growth through the book was absolutely amazing. Her relationships were also so well done, from the growing friendships to a breathless tension with her love-interest, I was captivated and moved by everything. My second favorite character of this book was without a doubt Luca Fontaine, a mysterious, cunning, bastard prince, who reminded me a lot of Loki with its cleverness, confidence and its mind games.


"For the first time, a ladder was hers to climb, its rungs not woven of fibers but fashioned of smooth and unbending metal. Who knew where she might scale it to? Restrain, constrain, subdue. This time, she labored to push the chant away."
The plot was also amazing. Amazing for me, but probably too slow for a lot of people. This book was full of political intrigue, it was in fact an intrigue 100% political and I just loved it. Political intrigues have always been my favorite kind of plots in fantasy stories, and The Councillor is now my one and only reference for that genre. With Lysande trying to choose the next ruler of the kingdom and stopping the city-rulers from killing each other, and the city-rulers trying to win her over to get on the throne, the tension and the games of politics were fascinating and kept me on the edge of my seat. The dialogues between the characters were full of double meaning, I even had to read some sentences twice to be sure to not miss anything. The book was full of mischief, conspiracy and betrayals, and I really didn't see some of the plot reveals coming. The plot kept me intrigued during the whole read, I couldn't stop second guessing everything, and be suspicious of everyone. Everything was clever, calculated and logical, like the motto of the Axium city: "Everything in its place."

What amazed me the most though, was how the author succeeded in adding tension and emotion in some of the scenes. I don't know if it was the overall atmosphere or just the writing, but in some chapters, I ended up speechless, on the edge of my seat and even on the verge of tears. The stakes grew higher and higher the more I read, and the slow built tension between the characters was so well done, that even a small act could be mind-blowing. Everything could go wrong in just one second, and honestly some parts of this book left me breathless. There was just so much tension, honestly, I had never felt that way before.


"Confidence before the nobility. Humility before the people. Books had a strange way of making themselves useful in your life, words sprouting up when you least expected them."
It was only a 400-ish book, but I felt like that I had spent so much time in this word. The world-building was fascinating, the history of this world and the magic with the elementals were so interesting, but the best part of all, was the feminist and LGBTQ+ norm of the world. In this world, women and men were equals. Women could be queens, wear armor and swords, know how to fight, command, have all the power, and it was normal for everyone. People could also love who they wanted to love, without fear, they could be with women and men without shocking anyone, they could just be themselves and it was normal. This was the dream world guys. This was the dream and E.J. Beaton created it in her book.


"Strange, isn't it, how the meanings of things are determined not by their essence, but by what they symbolize."
Overall, I was amazed from start to finish by The Councillor. Every aspect of this book was well crafted. And now, I need MORE. I need to learn more about this world, I need to learn how the plot will continue, I need to stay with these characters, because they all amazed me. I just need MORE.

This book is probably my favorite read of 2021, hands down.