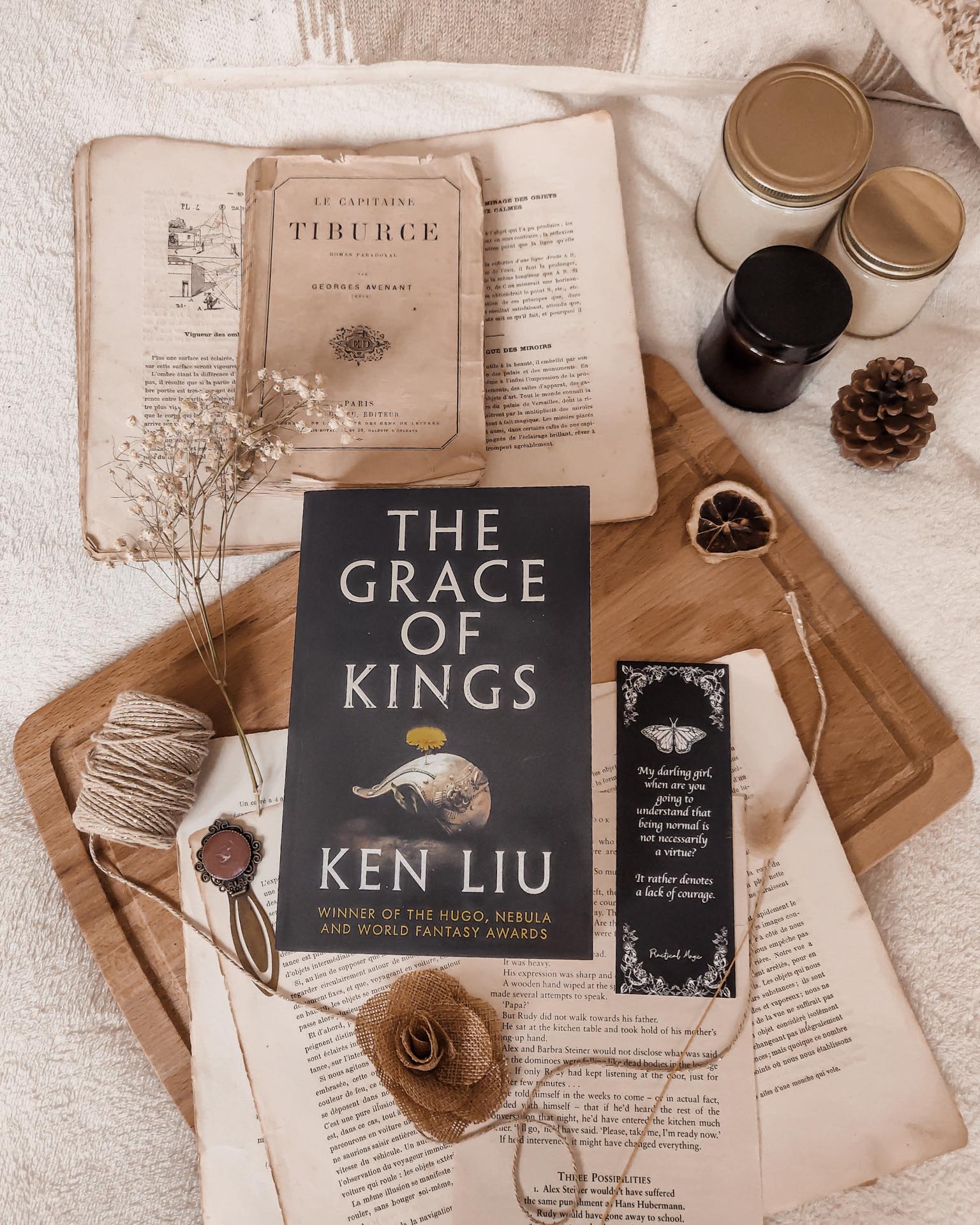 Two men rebel together against tyranny—and then become rivals—in this first sweeping book of an epic fantasy series from Ken Liu, recipient of Hugo, Nebula, and World Fantasy awards.

Wily, charming Kuni Garu, a bandit, and stern, fearless Mata Zyndu, the son of a deposed duke, seem like polar opposites. Yet, in the uprising against the emperor, the two quickly become the best of friends after a series of adventures fighting against vast conscripted armies, silk-draped airships, and shapeshifting gods. Once the emperor has been overthrown, however, they each find themselves the leader of separate factions—two sides with very different ideas about how the world should be run and the meaning of justice.

Fans of intrigue, intimate plots, and action will find a new series to embrace in the Dandelion Dynasty.
My thoughts

Let's try to review this big boy. Well, where do I start? I feel like I have so many feelings and thoughts about this book that I don't know where to start. I don't often feel the need to write a review of a book only a few hours after finishing it, but I couldn't stop thinking about this one so, let's try with the beginning.

The writing of Ken Liu instantly grabbed me and left me in awe of such beautiful and poetic writing. When I started this book, I didn't quite know what to expect besides the fact that it was inspired by Ancient Chinese history and known as an epic fantasy story. So, the beautiful writing was a surprise, and honestly this kind of writing is truly my favorite. The words swept me in a whole new world of culture and world-building, and I could just let myself float in this river of a graceful voice telling me a fascinating historical story.


"The most interesting thing is often not the easiest thing. There may be pain and suffering, disappointment and failure, for yourself and those you love. But without having endured bitterness, I don't believe one will treasure sweetness as heartily as one should."
At first, I was pretty overwhelmed and unsettled by this book. It was unlike anything I had ever read before, with an omniscient narrator, jumping from character to character -and there were many characters-, telling the story of each character and their actions in a short narrative, with the purpose of forming a bigger picture of this complex, divided world. Even if I was enjoying the writing, and was curious about the story, it took me a few chapters to get used to this novel structure. Here I was, expecting a new fantastic epic fantasy story, and I was, in the end, delivered a classic history book. Well, not quite really an history book, because there was so much more to it, but it made me think a lot about it with its structure.


"There's never going to be an end to suffering if 'he deserves it' is all the justification people need for inflicting pain."