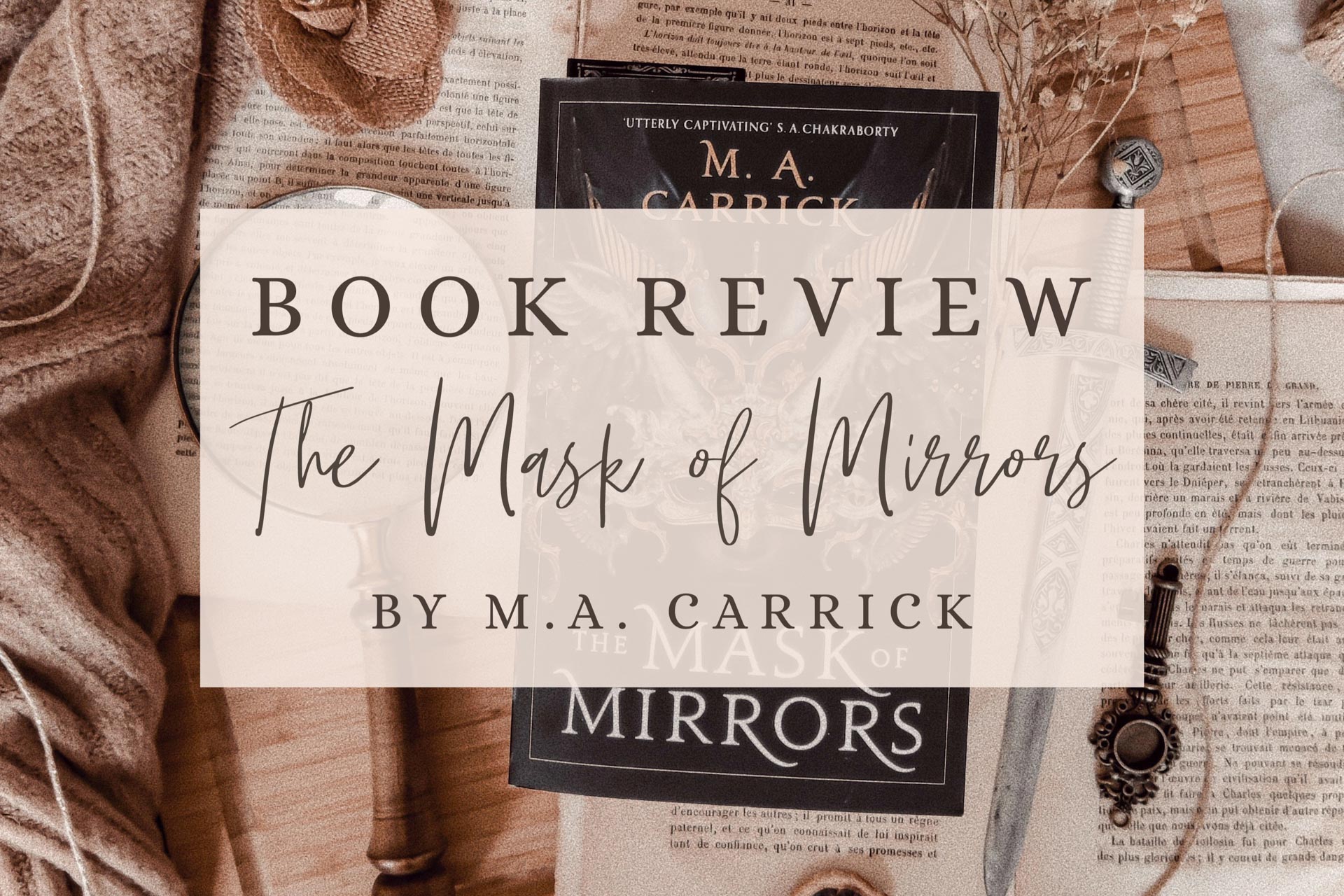 Author
: M.A. Carrick
Publisher
: Orbit
Genre
: Adult Fantasy
Release date
: January 21st, 2021
Pages
: 630
Goodreads page
:
here
TW
: murder, violence
My rating
: 5/5 ⭐
---
Synopsis
Fortune favors the bold. Magic favors the liars.

Ren is a con artist who has come to the sparkling city of Nadežra with one goal: to trick her way into a noble house, securing her fortune and her sister's future.

But as she's drawn into the elite world of House Traementis, she realizes her masquerade is just one of many surrounding her. And as nightmare magic begins to weave its way through the City of Dreams, the poisonous feuds of its aristocrats and the shadowy dangers of its impoverished underbelly become tangled… with Ren at their heart.

The Mask of Mirrors is the unmissable start to the Rook & Rose trilogy, a dazzling and darkly magical fantasy adventure by Marie Brennan and Alyc Helms, writing together as M. A. Carrick.
---
My thoughts

To be quite honest, it took me the longest time to write a full review of this book because I don't think my words could ever do justice to this masterpiece of a series. I fell in love with pretty much everything in this book so I'll try to review it because everyone needs to read this series.

The characters, were incredibly well-developed, realistic, morally grey, touching and complex, and the relationships between them were so well done. There were multiple POVs, with points of views from main characters but also side characters, and it was really interesting to learn and discover the city of Nadežra from different perspectives. All the main characters had a deep and well-developed background story that we learned bits by bits through the book, and it really helped me get attached to the characters and feel lots of empathy and love for them. Ren, Vargo and Grey became new favorite characters, and I still think about them regularly.


"A con was a confidence game: not just the mark's confidence in the sharper, but the sharper's confidence in herself."
The atmosphere was also outstanding, in a Venetian-like world full of masquerades, detailed architecture, ballrooms and beautiful gowns, but also mixed with a dark and complex side, full of crime lords, thieves, a mysterious vigilante called The Rook, and manipulative aristocrats. The atmosphere was so dark and mysterious but also magical and enchanting with vivid descriptions of everything, that every time I was picking up the book, I was immediately transported in this new world.

The book had a strong political intrigue, with a slow but complex and incredibly well-thought plot and 3 mysterious low-magic systems, one of them being based on tarot reading. Another one was called Numinatria, a magic of sacred numerology and geometry, channeling energy through carefully-inscribed figures. The last one was Imbuing, a subtle magic used to improve objects, such as making a cloak warmer, or change shrewdly a face to not be recognizable. What I really liked about this series was that not a lot of the intricacies of the world and magic systems were explained and the reader had to figure things out on its own. The political intrigue was full of manipulative characters, discussions full of lies and double meaning with quite a few plot twists, and even though the pace was really slow, I was immediately gripped by the intrigue and I couldn't stop reading it. There were different storylines moving forward slowly at the same time, and I absolutely loved how it all came together in an explosive ending full of sword fights, magic and surprises. Some parts of the book were also so intense, that I couldn't stop reading and I was so stressed that I ended up several times reading until 3 or 4 am (something that never happens to me, considering how important sleep is for me).


"Trust is the thread that binds us... and the rope that hangs us."
I would also like to add that this series has a queer-norm world, with wonderful lesbians, gays, bi and trans reps. I honestly could talk hours about this series, but to summarize briefly, if you love atmospheric, dark and complex political fantasy stories, this one is for you. Everyone needs to read this series, it's so underrated and yet SO GOOD. This series is worth a million stars /5.