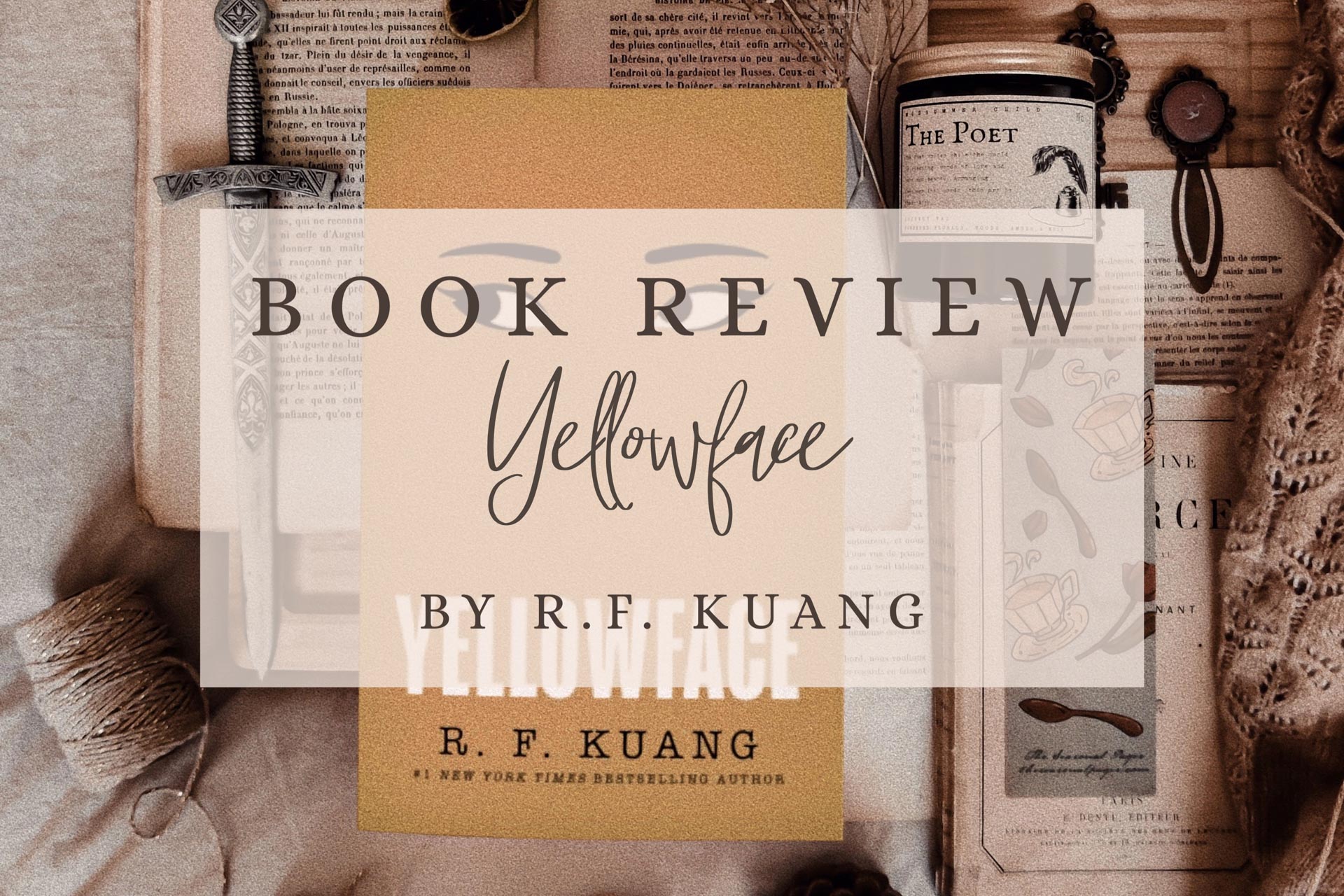 Author
: R.F. Kuang
Publisher
: The Borough Press
Genre
: Literary Fiction
Release date
: May 25th, 2023
Pages
: 350
Goodreads page
:
here
TW
: racism, rape, death
My rating
: 4.5/5 ⭐
---
Synopsis
What's the harm in a pseudonym? New York Times bestselling sensation Juniper Song is not who she says she is, she didn't write the book she claims she wrote, and she is most certainly not Asian American--in this chilling and hilariously cutting novel from R.F. Kuang in the vein of White Ivy and The Other Black Girl.

Authors June Hayward and Athena Liu were supposed to be twin rising stars: same year at Yale, same debut year in publishing. But Athena's a cross-genre literary darling, and June didn't even get a paperback release. Nobody wants stories about basic white girls, June thinks.

So when June witnesses Athena's death in a freak accident, she acts on impulse: she steals Athena's just-finished masterpiece, an experimental novel about the unsung contributions of Chinese laborers to the British and French war efforts during World War I.

So what if June edits Athena's novel and sends it to her agent as her own work? So what if she lets her new publisher rebrand her as Juniper Song--complete with an ambiguously ethnic author photo? Doesn't this piece of history deserve to be told, whoever the teller? That's what June claims, and the New York Times bestseller list seems to agree.

But June can't get away from Athena's shadow, and emerging evidence threatens to bring June's (stolen) success down around her. As June races to protect her secret, she discovers exactly how far she will go to keep what she thinks she deserves.

With its totally immersive first-person voice, Yellowface takes on questions of diversity, racism, and cultural appropriation not only in the publishing industry but the persistent erasure of Asian-American voices and history by Western white society. R. F. Kuang's novel is timely, razor-sharp, and eminently readable.
---
My thoughts

Oh my god, this book was simply brilliant and so different from what I had ever read before.

Let me start by saying this: this book is gonna drive the publishing industry and social media into the mud and you guys are not ready for this. This book will definitely NOT be for everyone, but for those of you, who, like me, are always searching to learn new things, are trying to deconstruct your views about society and everything in general, and love to be challenged in every way possible, you will have a blast with this book. If you pick up this book because you loved R.F. Kuang's previous works and are expecting something similar, stop right there. Yellowface is completely different, this is a satirical thriller / modern literary fiction with a point of view that will frustrate you, that will sometimes make you laugh and that will make you so, so, angry.


"It's the sort of book that leaves a mark."
Yellowface is about a white author, Juniper Hayward, who steals Athena Liu, an Asian-American new voice, just-finished novel, after witnessing Athena's death in a freak accident. Juniper had always been jealous of Athena's success in the publishing industry, and when she saw an opportunity, she took it and published Athena's novel about the unsung contributions of Chinese laborers to the British and French war efforts during World War I as her own.

This book was really easy to read with a modern, straightforward and plain writing that could not be compared in the slightest to Babel or The Poppy War trilogy. But in this setting, in a modern literary fiction, from an immersive first-person voice, the writing was completely fitting. The book was also filled with email, tweets and texts, which helped to further the plot faster.


"Author efforts have nothing to do with a book's success. Bestsellers are chosen. Nothing you do matters. You just get to enjoy the perks along the way."
The main character, Juniper, was insufferable from start to finish. Being in her head for the entirety of this book was very frustrating at times, interesting but it also made me realize how much internalised racism was an issue. I think that white reviewers that aren't deconstructed enough about this subject will completely miss the point and even sympathize with our main character here. Her story was fascinating and full of dramas, stressful, there were so many turning points and I was so ready for her to crash down and be ripped apart (figuratively) by everyone. It was fascinating to be in her mind because her thoughts felt so realistic yet scared me to death because I know, deep down, that so many people think like her. Juniper was so incredibly selfish and racist, but not in the "far right aggressive way", it was more in the "internalised racism that society has forced on everyone and that white people will never deconstruct because this way of thinking is just convenient for them". Her behavior raised some really interesting questions about the behavior of white people towards POC, how they always manage -in their mind- to turn themselves into victims and how they feel like something has been stolen from them when a POC is more successfull than them. They're so used to being the norm and to have everything handed to them, and they do not want to share equal opportunities with other ethnicities.


"And without us, these stories wouldn't get told."
This book is about so many important topics that will be mentioned many times and that will make you think, even after you finished the book, such as diversity, racism, and cultural appropriation not only in the publishing industry but the persistent erasure of Asian-American voices and history by Western white society. This book is raw, razor-sharp, and R.K. Kuang goes straight to the point without smoothing the rough edges, and that is exactly why this book is brilliant.

This book also denounced the toxicity of social media, and it was, at the same time, funny and bittersweet to witness it in this book with book twitter, and the online book community in mind.


"Racial trauma sells, right?"
This quote, right there, made me jump out of my chair because this is just so true. How I wish there were more Cambodian authors in this industry with fantasy stories, with young adult coming-of-age stories or with contemporary works instead of those countless genocide memoirs books. These books are really important, of course, and people should read them, but I would also want to read about Asian joy.

Honestly, reading this book was such an interesting experience, the plot was so addictive and impossible to put down even if it was exhausting to be in Juniper's mind, and I absolutely loved learning more about the publishing industry, and the process of publishing a novel. So overall, please read this book, because it is important and because it raises so many accurate questions about our Western white society.



Thank you to the publisher and Netgalley for sending me an e-ARC of this book.