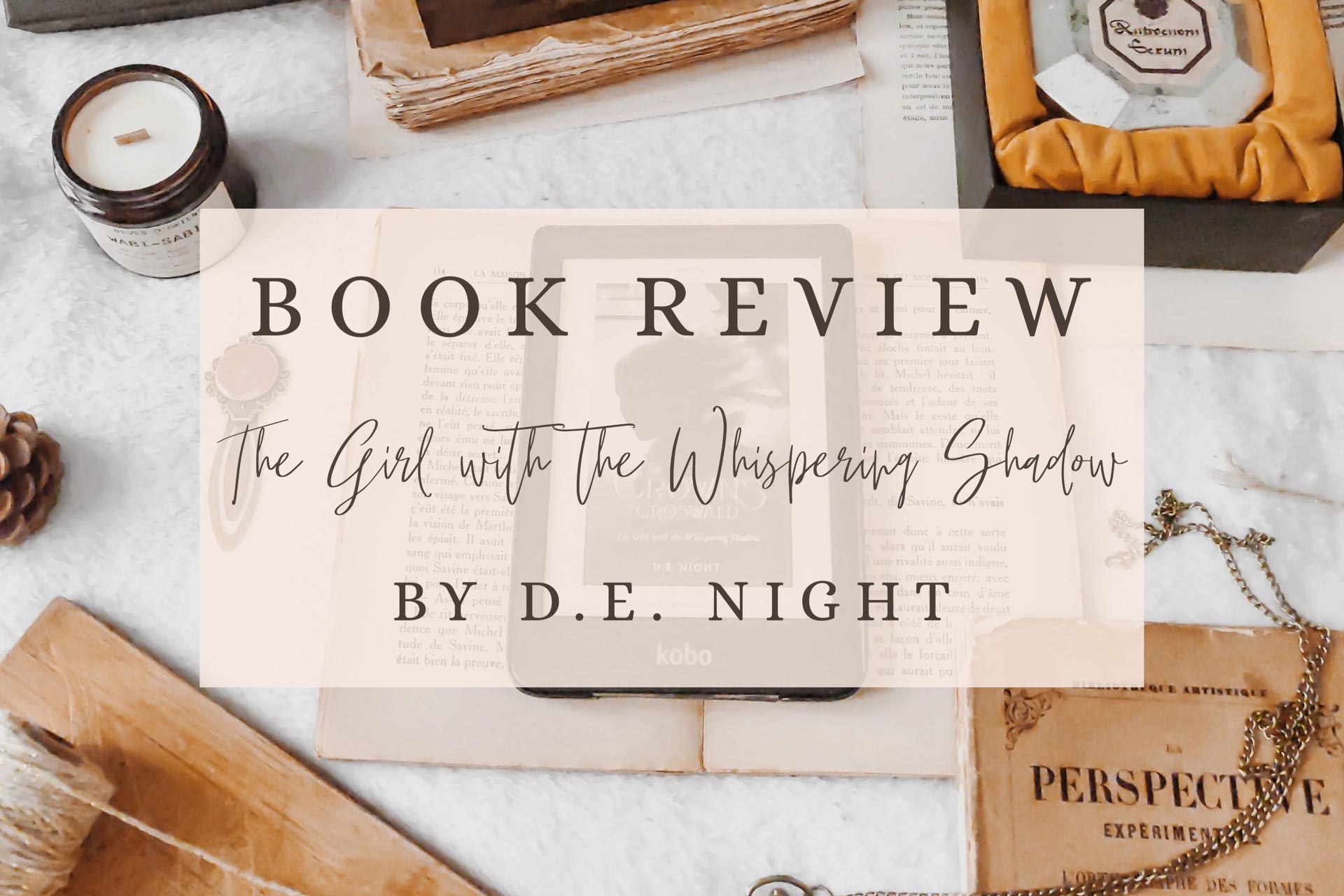 Author
: D.E Night
Publisher
: Stories Untold
Genre
: Middle grade Fantasy
Release date
: January 23rd, 2019
Pages
: 384
Goodreads page
:
here
TW
: -
My rating
: 4/5 ⭐
---
Synopsis
Even a secret town cannot protect Ivy from a mysterious darkness...

Only hours after Ivy Lovely discovers that she is the fulfillment of the Moonsday promise, she is whisked away from her beloved school to Belzebuthe, a secret town for only those with magical blood.

Ivy sets out on a mission to uncover the second facet of the Kindred Stone while eluding the Dark Queen's wrath. But even when she's supposed to be safe, something is shadowing Ivy. She will need all her natural-born magic and more as she battles to find the rest of the Kindred Stone and return to the Halls of Ivy.

Before it's too late...
---
My thoughts

The Girl with the Whispering Shadow is the sequel to The Crowns of Croswald (you can find my review of this book here), a middle grade fantasy story about Ivy Lovely, a young girl who ended up in a magical school, The Halls of Ivy, a school where students learn to master their magical blood and the power of Croswald's mysterious gems.

The ending of the first book was full of intrigue and discovery, and The Girl with The Whispering Shadow picked up where book one left off, after the chaotic Halls of Ivy's Masquerade Ball. From chapter one, the plot was moving fast and I was immediately swept away in this magical and enchanting world. As for so many sequels, I was afraid this book would have some pace/plot issues, but it wasn't the case at all. The pacing and intrigue of this book were way better than book one, and I didn't get bored one second, I was just happy to be back into this world!


"You'll only be as good as you allow yourself to be. If everyone were afraid to showcase their magical abilities, it would be one boring world, that's for sure!"
The world-building and writing, just like book one, were really good, I was just so curious to learn more and more about this world and this new Town that we were discovering for the first time. With its never-ending night sky and colder weather, the shades growing and being more present through this book and the almost scary vibes of the shadow following Ivy, I really enjoyed the atmospheric setting of this book, and I would really recommend to read this book during the Fall season.

In this sequel, Ivy made new friends with The Quality Quills Club, a forbidden club of 9 members, all students from The Halls of Ivy, where they were dueling each other to practice and learn as much as they could about quills and scrivenists abilities. This club was really interesting and I really enjoyed these new friendships. Rebecca and Fyn were also really great and enjoyable to read, and their friendship with Ivy was just so sweet and touching.


"You can be trapped in a castle, trapped in a scaldrony. Trapped by people. But the worst is being trapped by fear."
The only criticism I could have about this book, is that even though Ivy and some of the characters were seventeen and Fyn nineteen, I thought that they were behaving like younger teenagers than they were supposed to be. In my mind, these characters were more 14-15 years old, and that's why I was a bit annoyed with Ivy sometimes because I wished she would ask more help to her friends for her big issues with The Dark Queen. Most of the time, she was doing things on her own when she could have told everything to her friends and have let them help her! However, it improved towards the end of the book, so that was nice to read.

Overall, I really enjoyed this sequel, and I would really recommend it to fans of Harry Potter or middle grade fantasy series in general. I will definitely read The Words of the Wandering and the rest of the series!



Thank you to the author and Netgalley for providing me a copy of this book.